Harris was raised by his grandmother because his mother had to work in the mills when he was young.
I didn't want to become an artist, even though underneath I knew I was something like that. I thought I was a writer when I was a child. I saw myself writing books when I was an older man. I could visualize it. I quit school and left home.
Next year Harris took an art course and he remembered sitting there, frozen. There was a still life they set up for the class and they were supposed to paint it.  He remembers feeling that it was quite a fearful act to actually start to paint.
Then I picked up a brush and started painting, all of a sudden it was three hours later and I had a whole painting in front of me. I'm often divorced from my paintings because I don't feel I do them. It's not ego driven. It's like I'm with God or something flows through me that actually has nothing to do with my self. I just feel like I'm the hands. I imagine a lot of artists feel that way, that they're letting their art flow through them.
When Harris first started painting he attacked it like it was an enormous job because he felt like he had been called to it. He painted 10 to 12 hours a day. Harris would even go to the mill and work a full eight-hour shift and then come home and put in 4 to 6 hours of painting. He was obsessed.
I shift between the different series, sometimes I am driven to my roots and the Metis poems. Other times I am inspired by the events unfolding in the world and harsh scenes of violence we see daily. For me, art is not a constant stance but a continuing reaction to the world.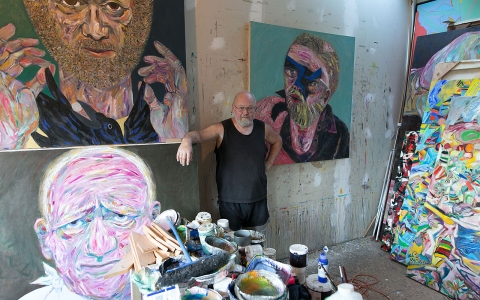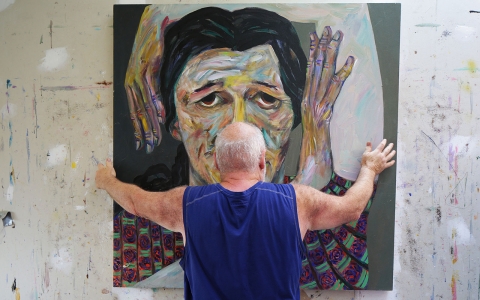 Chris Harris resume to download
Past Shows
Surrey Art Gallery 
Vancouver NeoArtism 
Vancouver Contemporary Art Gallery, Vancouver
NeoPersona Gallery, New York
Rose Gallery, Connecticut
Barracuda Club, Vancouver
Richmond Art Gallery, Richmond
Shadboldt Art Center, Burnaby
Bob Prittie Art Gallery, Burnaby
Trees Lounge Gallery, Vancouver
Grand Forks Art Gallery, Grand Forks